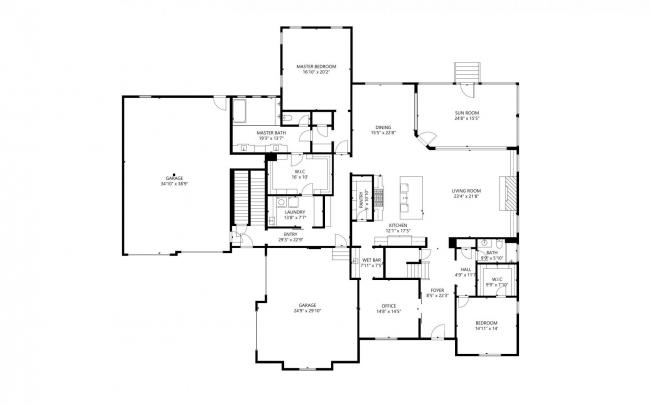 January 2023
Woodridge Homes
Building a custom home is an exciting and rewarding experience but can also be a complex and overwhelming process. From designing the floor plan to selecting finishes and fixtures, there are many steps involved in creating a truly tailored home to your needs and preferences. This guide will take a closer look at the Custom Home Builders process and provide tips and advice to help make the experience as smooth and stress-free as possible.
Step 1: Finding the Right Builder
The first step in building a custom home is finding a builder you trust and feel comfortable working with. Look for an experienced, reputable builder with a good track record of building high-quality homes. It's a good idea to meet with several builders, ask for references, and tour homes they have built in the past.
Step 2: Designing the Floor Plan
The next step is to design the floor plan of your new home. You can work with an architect, designer, or the builder to create a plan that meets your needs and fits your budget. Be sure to think about the layout and flow of the space, as well as the number of bedrooms and bathrooms you need.
Step 3: Selecting Finishes and Fixtures
After the floor plan is complete, it's time to select finishes and fixtures for your home. This includes things like flooring, countertops, cabinetry, and lighting. You'll want to choose materials and finishes that are durable, low-maintenance, and reflect your personal style.
Step 4: Obtaining Permits and Financing
Before construction can begin, you'll need to obtain all necessary permits and financing. Your builder should be able to guide you through this process and help you with any paperwork. Be prepared to provide detailed information about your finances, including your income, assets, and credit score.
Step 5: Construction
Once all the planning and preparation is done, it's time to begin construction. This is where you'll see your new home start to take shape. Be sure to keep in touch with your Custom Home Builders throughout the construction process and make sure they are meeting all of your expectations.
Step 6: Closing and Move-In
The final step is closing on your new home and moving in. This is an exciting time, but it's also a good idea to thoroughly inspect the home before you close. Ensure everything is up to your standards and that all warranties and guarantees are in place.
Conclusion
Custom Tennessee home builders are a big investment, but they can be a great way to get the home of your dreams. By following these steps, you can ensure that the process goes as smoothly as possible. With the right builder, a well-designed floor plan, and careful attention to detail, you can build a home that you'll love for years.
At Woodridge Homes, we are one of the premier Custom Home Builders in the greater Nashville area. We provide our customers with outstanding value, the highest quality construction, and the most innovative designs for a house you will proudly call your home.
Frequently Asked Questions
How long does it take to build a custom home?
The time frame for building a custom home can vary greatly depending on the size and complexity of the project, as well as the availability of materials and labor. On average, building a custom home can take anywhere from six months to a year or more.
Can I make changes to the home during the construction process?
Yes, you can make changes to the home during the construction process, but it's important to keep in mind that these changes can impact the overall cost and timeline of the project. It's a good idea to discuss any changes you're considering with your builder and make sure they are feasible and within your budget.
What happens if there are problems with my home after I move in?
If there are problems with your home after you move in, it's important to contact your builder as soon as possible. They should be able to help you resolve any issues that arise and address any warranty or guarantee concerns. Reviewing the contract and understanding what is covered under the warranty is important before you move in. It is important to research, communicate and be prepared for the process, so that you can work with your builder to make the best decision and ensure that the end product is exactly what you envisioned it to be.