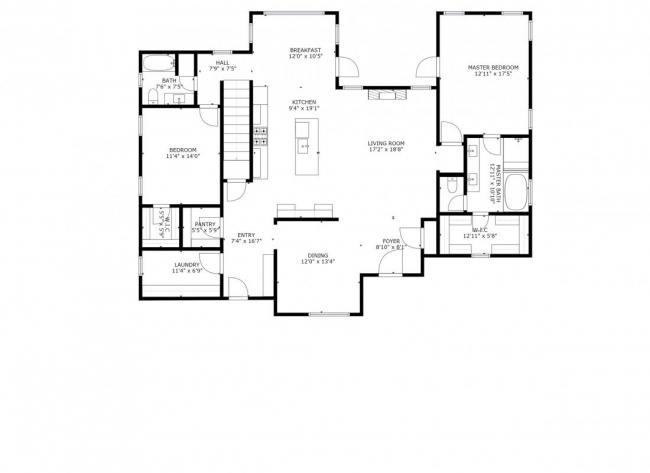 September 2023
Woodridge Homes
Building your dream home can feel like a wild roller coaster ride, complete with its fair share of ups and downs. While there will always be unexpected twists and turns along the way, you can arm yourself with knowledge to better prepare for the journey.
The dream of creating a home that truly reflects your unique vision, down to the smallest of details like finishes, appliances, and interior design, is a substantial one. If you're toying with the idea of building a custom home but find yourself uncertain about where to begin or what to anticipate, this guide is here to lend a hand.
1. Defining Your Vision Clearly
Embarking on the journey of building a custom home is an exciting yet intricate process. It involves a significant investment of your time, energy, and resources. However, with the right team of experts and a well-defined vision, you can transform your dream home into a reality.
2. Setting a Realistic Budget
Establishing a realistic budget is a fundamental step in the custom home-building process. Your budget should include construction costs and other essential expenses such as permits, landscaping, and interior furnishings. Collaborate closely with your builder and financial advisor to gain a comprehensive understanding of the financial aspects involved.
Setting a budget for your custom home is a crucial step in making your dream home a reality. Here are some practical tips to help you meet your budget that fits your needs and the neighborhood you plan to build in.
Begin by reflecting on how much you ideally want to spend on your home. Identify a number that feels comfortable and feasible for you. This number will serve as a starting point for your budget considerations.

While it's important to have an ideal figure in mind, it's equally essential to assess its realism. Consider whether this budget aligns with your family's financial situation and the goals you have for your custom home.

Remember that building a custom home is a significant investment, and setting a budget that's too high can strain your finances, while setting it too low may limit your home's potential.

Take some time to research the area where you plan to build your custom home. Does the budget you've chosen match the cost of other homes in the area?
3. Choosing the Right Builder for Your Custom Home
Selecting the right builder is a pivotal decision that can greatly impact the outcome of your custom home project. Extensive research, reference checks, and a thorough review of their previous projects are essential.
Ensure that the builder's style and approach align with your specific goals. Building a strong and open working relationship with your builder is key to avoiding misunderstandings and keeping the project on the right track.
4. Planning for Contingencies
In the world of custom home construction, unexpected challenges may arise despite meticulous planning. It's advisable to allocate a contingency fund of approximately 10-15% of your budget. This reserve ensures that unforeseen issues can be addressed without causing significant delays or budget overruns.
5. Prioritizing Quality Over Speed
While the anticipation of moving into your new home is understandable, it's vital to prioritize quality over speed.
Rushing through the construction process can result in subpar workmanship and disappointing results. Collaborate closely with your builder to establish a reasonable timeline that allows for thorough craftsmanship.
6. Frequent Site Visits to Your Custom Home
Regular visits to the construction site are vital. They provide you with firsthand insights into the progress of the project and offer an opportunity to address any concerns promptly. Consistent communication with your builder ensures that any issues can be resolved before they escalate.
7. Communication Is Key
Open, transparent, and ongoing communication with your builder, architect, and other professionals involved in the project is absolutely essential. Holding regular meetings and staying updated will keep everyone on the same page and prevent misunderstandings.
8. Documenting Everything During Your Custom Home Build
It's crucial to maintain comprehensive records of all agreements, changes, and communication related to the project. This documentation can be important in case of disputes or the need for clarifications in the future.
9. Embracing Flexibility
While a well-defined plan is crucial, be prepared to adapt to changes. As the project unfolds, you might encounter new ideas or unexpected challenges that necessitate adjustments. Flexibility will help you navigate these changes with a positive attitude.
10. Patience Is a Virtue
Building a custom home is a significant responsibility that demands patience. Delays and challenges may arise, but maintaining a patient and understanding mindset will help you navigate them more effectively.
By following these guidelines and working closely with your chosen builder, you can significantly reduce the frustrations often associated with building a custom home. Keep in mind that your dream home, as envisioned in Nashville, TN, will become a reality and bring you delight for years to come with careful planning, open communication, and a trained staff.
Final Thoughts
As you conclude your exploration of the custom home-building journey, remember that it's not just a process; it's a rewarding and enjoyable experience. When you partner with a design-build firm like Woodridge Homes, the path to your dream home becomes a collaborative adventure tailored to your vision.
Our commitment to putting your needs first, joined with our wealth of expertise and years of experience, ensures that building your custom home is a fulfilling endeavor. It's a journey where your dreams come to life, guided by open communication, expert craftsmanship, and a shared commitment to creating a home that truly reflects your vision.
So, as you embark on this exciting adventure in Nashville, TN, know that Woodridge Homes is here to guide you every step of the way. Let's make your dream home a reality together, ensuring that the process is successful, enjoyable, and ultimately rewarding.