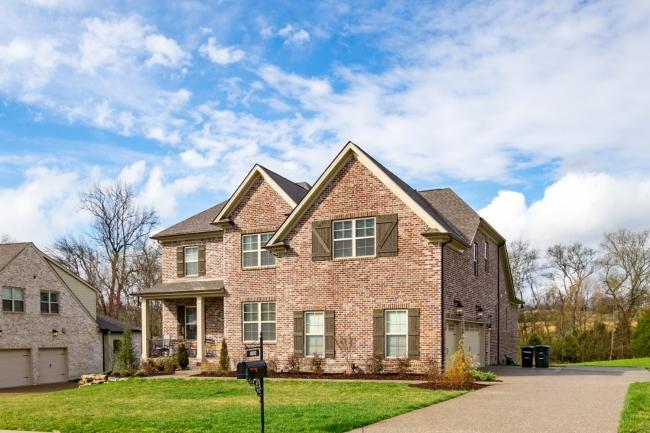 August 2023
Woodridge Homes
Asking two key questions when looking for custom house builders in Nashville can help you make the best decision. Ask about the builder's background and prior work first. Find out how long they have been working in the field and ask to see examples of their previous projects. This will enable you to gauge their level of experience and design aesthetic.
Enquire as to how they collaborate and communicate. A good working relationship and effective communication are essential when building a bespoke home. Ask them how they plan to keep you informed and involved during construction. You may choose a Nashville custom house builder who satisfies your wants and tastes by asking these two crucial questions.
Importance of Asking Questions to Nashville Custom Home Builders
When starting a project to build or remodel a home, consulting with Nashville custom home builders is crucial. Homeowners may guarantee their unique requirements and preferences are satisfied, obtain a greater understanding of the construction process, and make well-informed decisions by asking meaningful questions.
Clients can assess a builder's competence and suitability for the work by inquiring about their experience, previous projects, and design knowledge. Asking about materials, deadlines, and pricing also helps manage expectations and prevent surprises. Inquiry-based clear communication encourages collaboration, promotes openness, and eventually results in constructing a dream home that matches the homeowner's goals and wants.
How Much Cost Will Require?
The cost of hiring Nashville custom home builders might vary depending on several variables. The project's size, complexity, particular requirements, and level of customization will all have a significant impact on overall costs. The property's location, the materials chosen, and the quality of the workmanship are other variables that may affect the price. To receive a precise quotation, speaking with many builders and collecting in-depth quotes is essential.
To guarantee that your dream home is built within your budget, it's crucial to balance quality and affordability, even if costs vary greatly.
Types of Cost
Considering all potential costs before starting a house construction project is crucial. There are several important costs to consider. The price of purchasing land comes first, and it might differ greatly based on its location and size. The foundation, walls, roof, plumbing, electrical work, and finishes are all included in the expenditures associated with construction, as well as the materials, labor, and tools needed to complete the project. Inspections, architectural and engineering fees, and permits all have the potential to add to costs.
The cost of outfitting, interior design, and landscaping should also be considered. Last, continuing costs like maintenance, insurance, and property taxes should also be considered. Homeowners can efficiently plan and budget for their construction project by being completely aware of these cost factors.
Soft Cost
Soft costs are non-construction expenditures incurred by Nashville custom home builders during the project's planning, design, and management phases. These expenses are necessary to effectively complete a custom home, even though they are not related to physical construction.
Soft costs often include project management, architectural and engineering fees, permits and licenses, legal and advisory fees, and insurance premiums. To ensure efficient project management, adherence to regulations, and the general seamless execution of their custom home projects, custom homes in Nashville, TN, must carefully budget and distribute these soft expenditures.
Builders may guarantee financial sustainability and prompt completion of their projects while providing their customers with high-quality houses by factoring in these soft expenditures.
Hard Cost
Knowing the hard costs is essential when building a custom house in Nashville. Hard costs are the observable costs of building, supplies, and labor. The scale and complexity of the project, the site conditions, and the requested finishing are just a few of the variables custom home builders in Nashville consider when estimating hard costs.
These prices cover necessary components such as framing, plumbing, HVAC installations, roofing, and electrical and electrical systems. The materials required, such as lumber, windows, doors, flooring, and fittings, are also included in hard expenses. To complete a project within budget and on schedule, custom home builders must accurately estimate and manage hard expenses.
How to Find the Right Community?
There are several things to consider when choosing the ideal neighborhood for custom home builders in Nashville, Tennessee. First, evaluate your tastes and way of life. Decide whether you want to live in a suburban or urban area, near amenities, or in a certain school district. Find out about Nashville's demographics, crime statistics, and neighborhood events. By visiting the regions that interest you, get a sense of the culture and people. Consult present inhabitants and get their thoughts.
For tips and guidance, speak with a real estate agent focusing on custom homes. By carefully assessing these factors, you can locate the ideal neighborhood that meets your needs and preferences.
What are the Important Features You Need?
Choosing Woodridge Homes, who offer what you require to complete your construction project successfully, is crucial. Put experience and knowledge at the top of your priority list. Look for contractors with a solid business track record and a comprehensive understanding of the neighborhood market. It's essential to pay attention to details.
A trustworthy builder would prioritize superior workmanship and provide exacting work. Effective communication is also essential. Choose contractors who actively hear your needs, offer frequent updates, and uphold transparency throughout the project.
Last but not least, consider contractors who use eco-friendly and sustainable construction techniques. You can confidently choose Nashville home builders like Woodridge Homes if you pay attention to these crucial aspects and have your dream home built there.