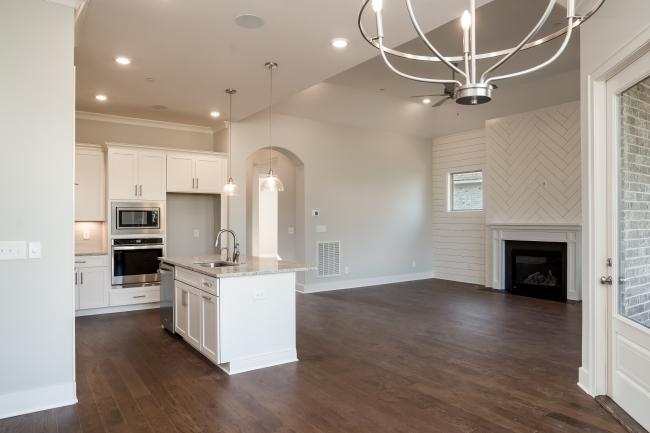 August 2023
Woodridge Homes
Building a new home is an exciting endeavor, and one of the crucial decisions you'll need to make is choosing between hiring custom home builders or opting for a pre-built home. While pre-built homes may seem convenient, they often need more personalization and quality from hiring custom home builders in Nashville.
Let's explore the advantages of hiring custom home builders in Nashville for your new home!
Tailored Design: One of the primary advantages of working with Woodridge Homes is the ability to create a home that perfectly suits your needs, preferences, and lifestyle. Custom builders team up with you throughout the design process, incorporating your ideas and vision into every aspect of your home. From the layout and room sizes to the materials and finishes, you can personalize every detail and ensure that your home truly reflects your style.

Quality Craftsmanship:Custom home builders in Nashville pride themselves on delivering exceptional craftsmanship. They have extensive experience and expertise in constructing high-quality homes using top-notch materials and employing skilled tradespeople. With their attention to detail and commitment to excellence, custom builders ensure that your home is built to the highest standards, resulting in superior durability, functionality, and longevity.

Location and Lot Selection: Nashville offers a variety of neighborhoods and communities, each with its unique charm. Our Nashville custom home builders can guide you in selecting the perfect location and lot for your new home. They have in-depth knowledge of the local real estate market, zoning regulations, and building codes, ensuring your home is in a desirable area and meets all requirements.

Energy Efficiency and Sustainability: As awareness of environmental issues grows, many homeowners prioritize energy efficiency and sustainability in their new homes. Custom home builders can incorporate eco-friendly features and energy-efficient systems into your home's design. From energy-saving appliances and smart home technology to efficient insulation and solar panels, they can help you reduce your carbon footprint and lower your long-term energy costs.

Personalized Service and Attention:When you hire custom home builders, you benefit from their personalized service and dedicated attention. They take the time to understand your goals and priorities, and they guide you through every step of the construction process. From initial consultations and design development to construction and final walkthroughs, custom builders address your concerns, answer your questions, and ensure your vision is brought to life.

Enhanced Functionality and Practicality: Custom home builders understand the importance of creating a space that is aesthetically pleasing but also functional and practical for everyday living. They can help optimize your home's layout and flow, ensuring that each room serves its intended purpose while maximizing space utilization. Whether you desire an open-concept living area, a dedicated home office, or a custom-designed kitchen, custom builders can customize the layout to suit your specific needs, enhancing the functionality and efficiency of your home.

Increased Home Value: Investing in a custom-built home can yield long-term financial benefits. Custom home builders in Nashville deeply understand the local real estate market and can guide you in making choices that increase the value of your property. They stay up to date with current design trends and can suggest features and upgrades that will enhance your home's appeal and marketability. A well-designed and expertly constructed custom home often has higher resale value than cookie-cutter homes, offering a return on investment if you decide to sell in the future.
Building Your Dream Home with Woodridge Homes
Consider hiring Woodridge Homes as your trusted custom home builders in Nashville. With their expertise in design, craftsmanship, and attention to detail, they will bring your dream home to life. Woodridge Homes is dedicated to creating homes that exceed expectations, from personalized service to quality construction.
Hiring custom home builders in Nashville offers numerous advantages for those seeking to build their dream homes. From tailored design and quality craftsmanship to location selection and energy efficiency, custom builders provide personalization and attention to detail that pre-built homes cannot match. If you're looking for a home that truly reflects your unique style and needs, partnering with custom home builders in Nashville is an excellent choice.