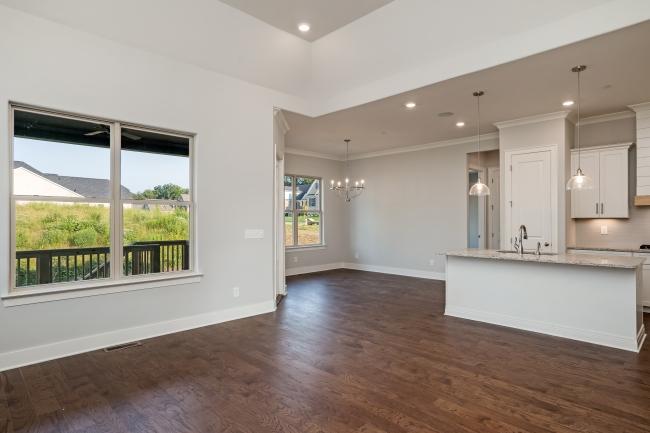 April 2022
Woodridge Homes
A dream home is made when you know what lifestyle you want and how to add aesthetic in that. It's not just about investing bucks, it's more about how you idealize a home that makes sense for your living. Woodridge Homes know how to give reality to your ideas of home and create a goodness that is close to nature and basic human needs. What do humans need? Safety, comfortable movement, and peace! We are custom home builders which bring for you, a home that has both, lifestyle and workability.
Different Custom Home Builders Styles in Tennessee
Every home tells the story of its dwellers, and every land owns a generic construction style. Some people prefer modern living styles, while others stick to traditions, with desired innovations. We, being custom home builders, go ahead with this comprehensive hindsight. Tennessee, being a landlocked state has got mainly two types of climates: in plains humid subtropical and highland climate in the higher elevations. For construction purposes, all these natural features are kept in the mind. Tennessee homes ideally represent twenty residential styles, which can be categorized into:
European styles, brought by the people who came from Europe in 19th and 20th centuries
Traditional American styles, influenced by US history, time and lifestyle
Our custom home builders' designs are a blend of these, homes which offer functionality, at the same time speak modernity. We believe in carrying forward tradition with innovation!
Our Designs Represent Wanderer's Aesthetic & Technical Mastery
A home building plan starts from the building style to interior and flooring plans. We are one of those Nashville home builders who provide every service from innovative forefront designs to smart interiors. Depending on your budget, we provide personalized building solutions. Your table talk with our consultants enables us to bring your concepts in the home design. Considering your area, first of all we finalize the building style. We offer these main constructional formations and make tweaks according to your preferences. Also, we help you finalize roofing, the chimney style, window cuts and weather sheets as well.
Building Styles
Ranch Style
Oasis Cottage
1, 1/2 Storied
2 Storied
Chalet Style
Interior
This goes with how you want to get a home that helps you achieve your desired lifestyle every day. It's not something very simple, there are great technicalities involved to avoid discomforts and any sort of hazards in everyday life. These can be halts in entryways, water seepage, least air crossing, no sunshine, rusting of appliances and many more. If you are looking for Tennessee home builders, who leave behind no ambiguity in construction guides, trust us for that! Our architecture team works out your desired interior after making all technicalities clear to you. They brief you about everything starting from where these main housing sections should be:
Bedrooms
Suites
Kitchen/Pantry/Utility
Casual Dining
Great Room
Foyer
Cabana
Den
Fireplaces
Doors/Side panels/Windows
Flooring
Different sections of a house need different flooring materials like wood flooring, tile flooring, vinyl flooring, and carpet tiles. Tiles are best suitable for the areas where there is excess use of water, it results in long life and easy maintenance of the flooring. Wooden and vinyl floors best go with bedrooms and living sections. We are prime Nashville home builders who offer an extensive range of floor plans. We offer around hundred styles, like The Blakely, The Rushmore, The Sawyer, The Lynnwood, The Hadley - Woodcrest and much more for adding a touch of warmth and love to your interior.
Fringe Benefits of Hardwood Flooring
Hardwood has been one of the most preferred flooring choices since ages due to its durability, maintenance, and elegance. It's easy to install, refurbish and repair. It's mainly made out of a variety of species like maple, oak, cherry, walnut, bamboo, mahogany, and ash wood. Solid hardwood is a matchless choice if you want to build a new home in Nashville. Here we stretch the advantages of finished and unfinished hardwood flooring to let you know why we opt for it in floor plans.
It's durable and long lasting. The higher the quality, the higher the rates, but you can also choose engineered hardwood that is cheaper, but similar to real hardwood.
It adds a sense of permanence and calmness to the interior. This flooring gives a high-end organic look to your home and enhances spaciousness.
It adds value to your lifestyle. If you are keen for home décor then these hardwood floors are the perfect chemistry with your light arrangements, wall hangings and other home layouts.
It improves air quality and reduces risks of dampness. Wood floors contribute to a dry ambience, which reduces the birth of germs and bacteria.
It goes with any home décor theme. The hardwood floor is adaptable for any sort of setting, either for living or bedrooms. It gets aligned with the placements naturally.
It doesn't fade away quickly. Hardwood floors are tough, live for generations and are ideally meant for highly active workspaces.
FAQ
What is the maximum area required to plan for a ranch style home?
Does your floor plan come with lifetime warranty?
Which hardwood flooring would you suggest if we are a family with rowdy kids?