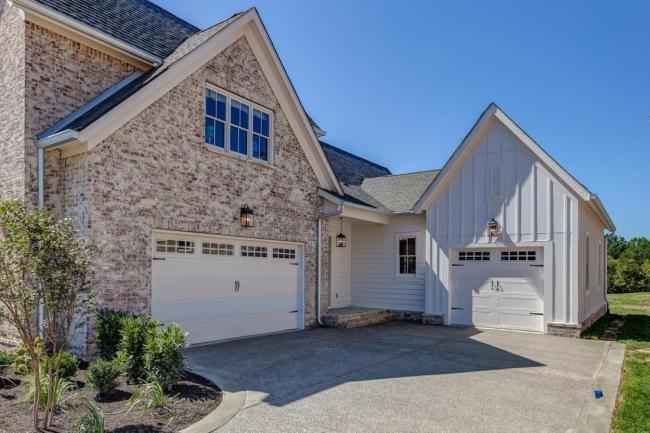 August 2023
Woodridge Homes
Hiring custom home builders is a good decision that can benefit you if you're considering building a house in Nashville, Tennessee. Custom house builders have the knowledge and experience to create your ideal home according to your unique tastes and requirements.
Hiring custom house builders in Nashville gives you access to their in-depth understanding of neighborhood building codes, ordinances, and construction methods, assuring a successful and efficient building process.
These experts collaborate closely with you throughout the process to ensure your home is expertly and precisely built. Working with Woodridge Homes ensures a genuinely individualized and extraordinary house-building experience, from design and planning to construction and finishing touches.
Reasons to Hire Custom Home Builders
Hiring custom home builders is a prudent choice with several advantages when creating the home of your dreams. To begin with, custom house builders have the knowledge and experience to make your vision a reality.
They have extensive building process knowledge and can walk you through each stage to ensure top-notch craftsmanship. Custom home builders offer individualized service, adjusting the design and features to meet your unique tastes and requirements.
A home that represents your style will be distinctive and one-of-a-kind thanks to this level of customization. As they handle permits, scheduling, and coordination, custom house builders also save you the worry and inconvenience of handling the construction yourself. This guarantees a quick and easy building procedure.
Get What You Want
Looking to build the house of your dreams? Look no further than Woodridge Homes! Our skilled team of architects, designers, and builders is committed to assisting you in obtaining your ideal home.
We collaborate closely with you from the initial consultation to the finishing touches to ensure every aspect reflects your vision. We stand out for our dedication to excellent craftsmanship and meticulous attention to detail, which ensures a gorgeous and customized home that represents your style.
Whether you choose a classic conventional design or a contemporary sanctuary, you can rely on our Custom Home Builders in Nashville to produce excellent results. Your ideal house is here!
Changes Become Easy
With the aid of knowledgeable builders and contractors, remodeling your custom house in Nashville, TN, has never been simpler. The procedure is simple and stress-free whether you want to add a second room, update the kitchen, or design a unique outdoor area.
Nashville's custom house builders recognize the value of adaptability and flexibility, enabling you to change your home to suit your changing needs and tastes. These experts walk you through every step, from the initial design discussions to the final changes, ensuring your vision becomes a reality.
Your custom home in Nashville can be easily and exhilaratingly transformed thanks to their knowledge and commitment to client pleasure.
Smooth Process
Your ideal home can be built using a smooth and effective method by Nashville home builders. They work to make every process step as easy as possible, from the initial consultation to the final additions.
These contractors have refined their skills and craftsmanship, guaranteeing top-notch building and close attention to detail at every stage. They collaborate closely with clients to comprehend their goals and preferences while offering knowledgeable advice and suggestions all along the road.
Nashville home builders easily breeze through the bureaucratic components because of their in-depth understanding of regional laws and building requirements, speeding up the procedure.
Their dedication to open lines of communication and honest timetables promotes trust and guarantees that the project moves forward without interruptions or surprises. Whether building a custom house or renovating one, Nashville offers a seamless procedure.
Save Money
Hiring custom house builders can be a wise financial move to create your dream home in Nashville, Tennessee. Spending more on custom buildings may seem paradoxical, but in the long term, it can enable you to save money.
Due to their significant expertise and experience in the field, custom home builders can optimize the construction process and avert costly errors. They may offer knowledgeable guidance on inexpensive materials and energy-efficient solutions, lowering maintenance and utility costs.
Additionally, custom builders can modify the design to fit your particular requirements, avoiding unforeseen costs for future restorations or adjustments. You may build the home of your dreams and save money by working with custom home builders in Nashville, TN.
Ways to Choose the Best Custom Home Builders
There are some important variables to consider while choosing the best custom house builders like Woodridge Homes. First and foremost, researching and getting suggestions from dependable people like friends, relatives, or real estate experts can be quite helpful.
The builder's experience, credentials, and project portfolio must also be evaluated. As a productive working relationship is essential during construction, assessing their communication and collaboration skills is critical.
Reliability and compliance are further ensured by checking the builder's credentials, insurance, and adherence to building codes. Finally, getting many quotations and contrasting costs, delivery times, and warranties enables you to make an informed choice.
By carefully weighing these factors, one can confidently select the greatest custom house builder for their dream home.