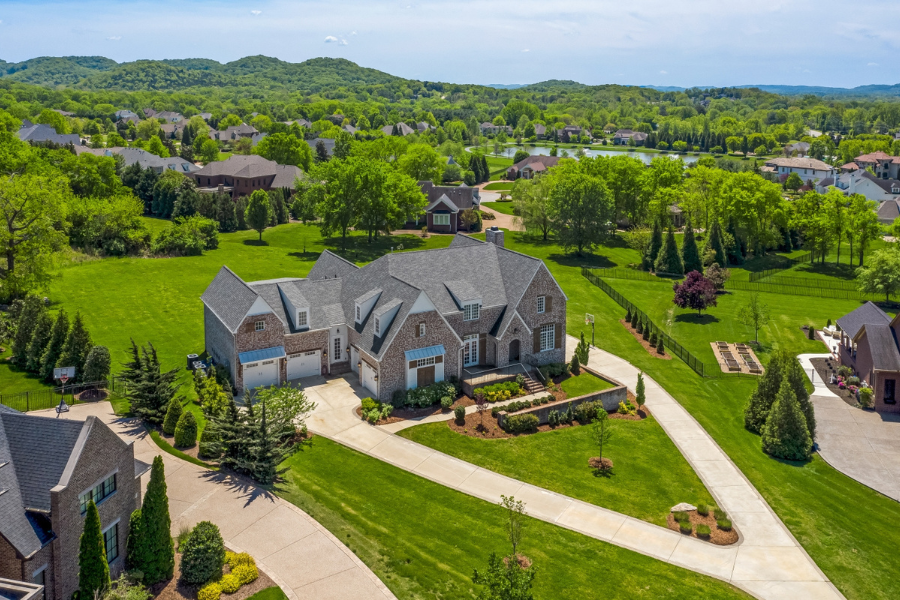 10 October 2023
Woodridge Homes
Are you considering building your dream home in the vibrant city of Nashville, Tennessee? It's an exciting venture, but understanding the costs involved is crucial. In this article, we'll explore the expenses associated with building a 2000-square-foot house in Nashville. We'll also introduce you to reputable home builders in Nashville, such as Woodridge Homes, to guide you through this journey. Whether you're a first-time home builder or a seasoned pro, we'll break down the costs and provide valuable insights in simple, easy-to-understand terms.
Insights For Your Home-Building Journey By Home Builders In Nashville
Building your own home is a significant undertaking, and Nashville's real estate market is no exception. To help you plan effectively, we'll cover the following aspects of How To Build a Custom Home on a Budget while constructing a 2000-square-foot house in Nashville, Tennessee
Land Acquisition:
Location plays a vital role in pricing.

Expect variations in land costs across different neighborhoods.
Design and Architecture:
Customized designs may increase costs.

Consider energy-efficient options to save in the long run.
Permitting and Inspection Fees:
The city of Nashville requires permits for construction.

Inspections ensure your home meets safety standards.
Material Costs:
Prices fluctuate with market conditions.

Quality materials can increase longevity and reduce maintenance.
Labor Costs:
Skilled labor is essential for quality construction.

Nashville's labor market influences prices.
Utilities and Infrastructure:
Costs for water, electricity, and sewage connections add up.

Evaluate the accessibility of utilities to your chosen location.
Additional Features:
Add-ons like a deck, pool, or specialized finishes increase costs.

Determine which features are essential for your lifestyle.
Time Frame:
Building during peak seasons may be more expensive.

Delays can also impact your budget.
Diving Deeper Into Your Home-Building Journey
Understanding the aforementioned factors will help you estimate the cost of building your 2000-square-foot home in Nashville more accurately. Now, let's delve deeper into these aspects.
Land Acquisition:
When selecting a location for your new home, keep in mind that land prices can vary significantly in Nashville. Premium neighborhoods may come with a higher price tag, while areas farther from the city center might offer more affordable options. Consider your priorities and budget when choosing the perfect spot for your dream home.
Design and Architecture:
Customizing your house design can be both exciting and costly. While personalized touches can make your home unique, they may add to your overall expenses. Collaborate with experienced architects to strike a balance between your vision and budget. Additionally, investing in energy-efficient features can save you money on utility bills in the long run.
Permitting and Inspection Fees:
Building permits and inspections are non-negotiable expenses. Nashville has specific regulations to ensure safety and compliance with building codes. Be prepared to budget for these fees to avoid legal complications during construction.
Material Costs:
The cost of materials can fluctuate with market conditions. To manage these expenses, work closely with your builder to select cost-effective yet durable materials. Quality materials can reduce maintenance costs in the future and enhance your home's longevity.
Labor Costs:
The availability of skilled labor in Nashville can affect construction costs. Hiring experienced contractors and workers is essential for a successful project. Request multiple quotes and compare prices to find a balance between quality and affordability.
Utilities and Infrastructure:
Connecting your new home to utilities and necessary infrastructure comes with its own set of costs. Ensure that you have a clear understanding of these expenses and factor them into your budget.
Additional Features:
Consider your must-have features and prioritize them in your budget. Adding luxurious features like a swimming pool or high-end finishes can significantly increase the overall cost of your project.
Time Frame:
The time of year you choose to build can impact your budget. Building during peak seasons may come with a premium price tag due to high demand. Delays in construction can also result in additional costs, so planning and adhering to a timeline is crucial.
Conclusion:
In conclusion, building a 2000-square-foot house in Nashville, Tennessee, involves several cost factors. By carefully considering these aspects and working with reputable home builders in Nashville, like Woodridge Homes, you can embark on this journey with confidence. Nashville's charm, combined with your dream home, will undoubtedly make it a worthwhile investment filled with excitement and anticipation. Happy building!
FAQ's
What are the benefits of using renewable energy sources?
Using renewable energy sources reduces greenhouse gas emissions, mitigating climate change. Renewable energy is sustainable, ensuring a long-term energy supply while decreasing reliance on fossil fuels.
How can I improve my credit score?
Pay bills on time and in full to establish a positive payment history. Reduce credit card balances and avoid opening multiple new accounts.
What is the best way to start a healthy lifestyle?
Incorporate regular exercise into your routine, aiming for at least 150 minutes per week. Adopt a balanced diet with plenty of fruits, vegetables, lean proteins, and whole grains.