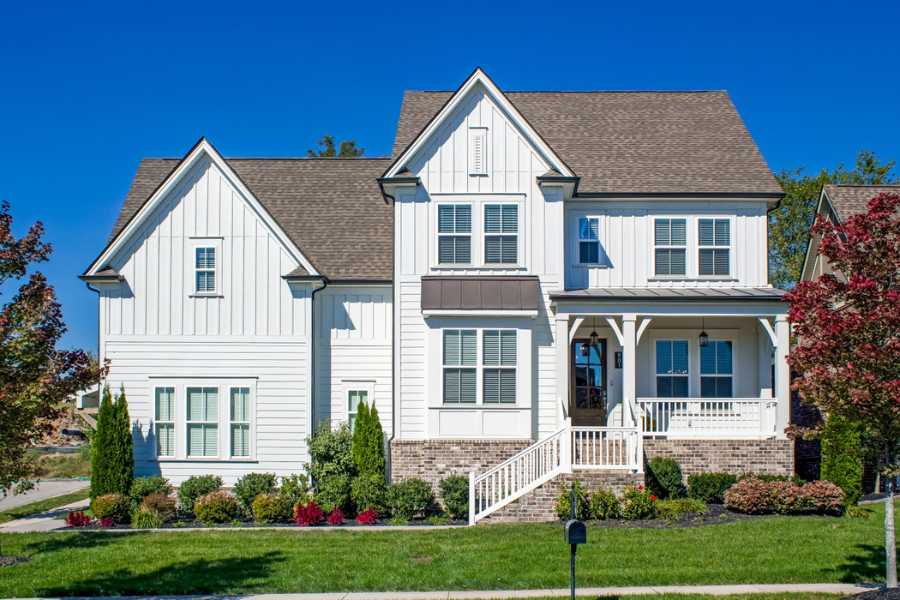 10 October 2023
Woodridge Homes
Constructing a new house is a thrilling pursuit and a milestone in one's life, but it also means you need to put a lot of thought into its financials. In Nashville, a city renowned for its growing real estate sector, understanding the main aspects of building a new home in Nashville is imperative, especially when considering the numerous options available, such as Woodridge Homes. This article will talk about all the factors that influence the overall cost of a house and how much does it cost to build a new house in Nashville, including insights into the quality and craftsmanship provided by builders like Woodridge Homes.
Cost Determination by Custom Home Builders
The process of cost determination by custom home constructors is an intricate undertaking that encompasses the assessment of a myriad of elements. These encompass the cost of materials, labor, permits, and any distinctive specifications articulated by the patron. The knowledge of financial planning and reasonable allocation of resources ensures that the ultimate quotation accurately mirrors the client's vision. You have to consider all the factors before you can figure out how much does it cost to build a new house in Nashville.
Understanding of the Expenditure
Grasping the outlays associated with building new custom homes in Nashville, TN, is a pivotal phase in the construction trajectory. This encompasses a thorough assessment of expenses, ranging from land acquisition to interior decoration, guaranteeing a pragmatic budget for the venture. Once you have a better grasp of the expenditure, you can better figure out how much does it cost to build a new house in Nashville.
Land Procurement and Preparation
Procuring the apt piece of land constitutes the bedrock of any novel construction. Variables such as location, dimensions, and accessibility exert a substantial influence on the cost. Additionally, expenses for site preparation, encompassing excavation, grading, and utility linkages, should be taken into account when figuring out how much does it cost to build a new house in Nashville.
Architectural and Design Expenses
Enlisting the services of a proficient architect is imperative in the creation of a blueprint that aligns seamlessly with your vision. This encompasses floor plans, elevations, and other design facets. These experts work with a custom home builder in Nashville to ensure that your new abode fulfills both aesthetic and practical prerequisites.
Construction Materials and Workforce
Large divergence in costs of construction materials such as wood and concrete, as well as plumbing and electricity fittings, can make a big difference in the construction cost. More importantly, there is also efficient labor to consider. Carpenters are among other critical workers, just as plumbers and electricians. Investing in superior craftsmanship is an expense that adds durability and value to your home.
Interior Embellishments and Fixtures
Choosing finishes like flooring, countertops, cabinetry, and luminous fixtures exert a substantial impact on the overall cost. Striking a balance between quality and budget is paramount in attaining an outcome that aligns with your expectations. It will also give you a better idea about how much does it cost to build a new house in Nashville.
Contingency the Budget
Unanticipated circumstances may materialize during the construction process. Having an emergency budget in place provides a buffer against unforeseen expenses, bestowing tranquility of mind throughout the endeavor.
Read this article to learn more: CUSTOM HOME BUILDERS HIGHLIGHT FACTORS
How Nashville Custom Home Builders Create Budget with Precision?
Precision in budgeting for a new home construction venture is pivotal for its success. This process entails getting competitive quotations, preparing for eventualities, and prioritizing requirements. These methodologies empower homeowners to make financial determinations throughout the endeavor.
Prioritize Requirements versus Desires
Discriminating between important features and luxuries is pivotal. Knowledge of this difference helps with the allocation of resources where they hold the most significance.
Requesting Multiple Quotations
Obtaining proposals from different Nashville home builders and suppliers allows more accurate price comparisons and guarantees that you procure the optimal value for your investment.
A new house construction in Nashville constitutes an investment for your future. By understanding the costs entailed and implementing effective budgetary strategies, you can figure out how much does it cost to build a new house in Nashville. Our custom home builders turn your dream home into reality through careful planning and paying attention to detail. You can visit our website to learn more and leave the rest to our experts.
Here are important questions to clarify the house building cost.
Frequently Asked Questions
Can I construct a residence in Nashville on a minimal budget?
By giving importance to essentials, seeking competitive quotations, and preparing for contingencies, you can erect a high-caliber residence within a rational budget with the help of custom home builders.
How long does it take to build a new house in Nashville?
For construction, timing issues may arise depending on parameters that include house size or complexity and weather. Generally, it may range anywhere from six months to a year.
Should I enlist a project overseer for my new residence construction?
While not obligatory, a project overseer can streamline the process, guaranteeing punctual completion and adherence to budgetary confines.
Can alterations to the design be affected after construction commencement?
This may entail additional costs and potentially elongate the project timeline. It is advisable to conclude design determinations prior to the construction period.